Reticence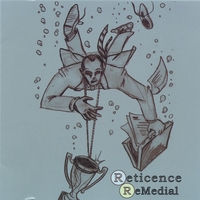 The state or quality of being reluctant; unwillingness.
Going back a couple of years - say 8 or 9 - my friend Jesse Norell and I used to get together in our houses and mess around on guitars (I messed around, Jess more or less played). I started playing more and more after that. Jess always wanted to play in a band, and he did while he was here. He always expressed a desire to go down the road of music.
Jesse was never one to think of this as wanting to be famous, or be a star, etc. He wanted to make music he would like to hear; music he identified with. Those bedroom band days passed, but I was willing to bet he would never give up on his dreams. Jesse graduated from highschool and moved to his home state of Minnesota for college.
Needless to say, time made a rift in our lives. I haven't seen Jess in a long while, so my surprise upon stumbling on his webpage was great. Jess started a band called Reticence with his friends in Minn.
Hearing his voice as lead singer of the band brought to mind those days when we used to hang out and play video games. The songs I heard are amazing and exactly the songs Jesse would be associated with (I'm partial to "Up Up Down Down").
I'm reticent to say Jess made it, as am sure he is reticent to stop where he is now and was reticent to give up on his dream; they've done a lot, but the road is wide open for them to cruise on. Check out the band's tracks on
myspace
, am sure you'll like it instantly.
*Trivia: One of the band's influences is Bachata; I guess living here for a while really got to Jesse, he really digs his bachata beats...